Stanadyne is America's leading diesel fuel injection equipment company, and the only OEM fuel system manufacturer in the world to market its own range of diesel fuel additives.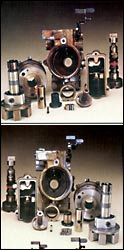 Click to enlarge
No other additives or conditioners have the backing of some of the most respected names in the diesel industry. Many of the world's leading vehicle and engine manufacturers have used and recommended Stanadyne diesel additives.
Recognized experts in diesel servicing carry the Stanadyne range of additives because they know it's the best on the market.