The purpose of a turbocharger or supercharger is to supply a sufficient amount of air to an engine for efficient combustion.

Providing clean intake air and sufficient and clean lubrication can extend the life of these Ďair compressorsí.
At Kingston Diesel Services, we rebuild our own turbo and supercharger units to exacting precision. All internal components are precisely measured and machined to oversize specifications where required.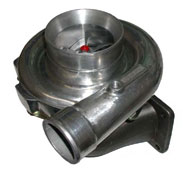 Our turbo units are dynamically balanced, and our superchargers are tested to ensure the best quality possible.